Avenger Class MCM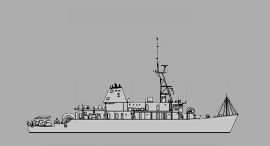 In this articel we will have a brief history of Minesweepers
AM Class
The Admirable class these vessels were constructed of steel and were one of the largest and most successful classes of minesweeper ordered by the United States Navy during World War II. Typically, minesweepers detected and removed naval mines before the rest of the fleet arrived, thereby ensuring safe passage for the larger ships. They were also charged with anti-submarine warfaare (ASW) duties with rear-mounted depth charge racks and a forward-firing Hedgehog antisubmarine mortar. Their job was essential to the safety and success of U.S. naval operations during World War II and the Korean War. These minesweepers were also employed as patrol vessela and convoy escorts. USS Hazard (AM-240) survives as a museum ship on dry land in Omaha, Nebraska.
MSO
The Agile-class minesweepers are a class of US-built ocean-going minesweepers. The United States Navy undertook a large scale construction of a new series of minesweepers. In contrast to the steel-hulled minesweepers (AM) built before, the Agile-class minesweepers were built mostly of wood with bronze and stainless steel fittings and engines to minimize their magnetic signature. The ships were equipped with the UQS-1 mine-locating sonar and were capable of sweeping moored, bottom contact, magnetic and acoustic mines. Although it was planned to modernize all U.S. Navy ships of this class, only 19 ships were modernized starting with Fiscal Year 1968. The modernization cost between 700,000 and 1,500,000 $ per ship and should enable them to operate for another ten years. Today most of the MSO fleet vessels have been decommissioned. The USS Lucid (MSO-458) is located in Stockton, California being restored as a Meseum Vessel.

MCM

In the early 1980s, the U.S. Navy began development of a new mine countermeasures (MCM) force, which included two new classes of ships and minesweeping helicopters. The vital importance of a state-of-the-art mine countermeasures force was strongly underscored in the Persian Gulf during the eight years of the Iran-Iraq war and in Operations Desert Shield and Desert Storm in 1990 and 1991. These ships use sonar and video systems, cable cutters and a mine detonating device that can be released and detonated by remote control. They are also capable of conventional sweeping measures. The ships are of fiberglass sheathed, wooden hull construction. Avenger class ships are designed as mine sweepers/hunter-killers capable of finding, classifying and destroying moored and bottom mines. USS Avenger (MCM 1) was decommissioned on September 30, 2014. USS Defender (MCM 2) was decommissioned Oct. 1, 2014. USS Guardian (MCM 5) was stricken from service in 2013. There remain 11 MCMs in current service to the fleet.
Active MCM Ships
USS Sentry MCM 3
USS Champion MCM 4
USS Devastator MCM 6
USS Patriot MCM 7
USS Scout MCM 8
USS Pioneer MCM 9
USS Warior MCM 10
USS Gladiator MCM 11
USS Ardent MCM 12
USS Dextrous MCM 13
USS Chief MCM 14
Information Courtesy of the Wikipedia and US Navy - Fact File