These web pages are dedicated to All Who Served on the USS Guide MSO-447
and their family members.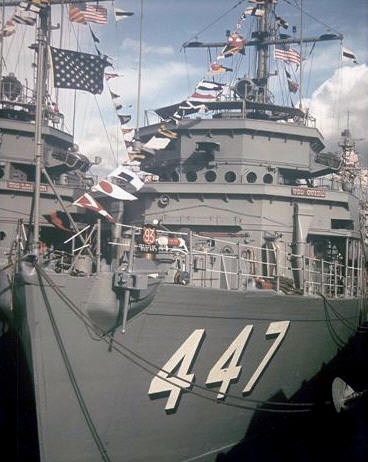 USS Guide MSO 447
This website is not only dedicated to all who served on the USS Guide MSO 447 but to every mineman who served on the various types of minewarfare vessels used by the US Navy and to their family members who waited for those men to return to home port.
Minesweeping is the safe practice of removal of explosive naval mines specifically designed to do damage to any ship that comes in near contact with the mine. This is a hazardous duty assignment that requires the utmost precision. The United States Navy employed steel hull ships called AM's during WWII to minesweep inshore area of beachheads so our Marines and Soldiers can get on shore to do battle with our enemys.
As time moved on the US Navy saw the need build ships for minesweeping that were made of wood and other nonferris metals. In the early 1950's work began on ship designs capable of working inshore coastlines as well as back waters and inlets and the open oceans.
The USS Guide was launched on April 17, 1954 and Commissioned on March 15, 1955. The Guide was struck from the naval list in 1972 and sold for scrap in 1973
In this website we have rebuilt the old site to pay homage to the crewmembers that have served onboard this ship. Most of the old Minesweepers built in the 1950's have also been scrapped except for the USS Lucid MSO 458 which is in the process of being restored as part of a Maritime Museum in Stockton, California.
In the early 1980's the US Navy replaced all the remaining MSO type minesweepers with New Mine Countermeasurers Ships with the designation MCM. These new vessels are Minesweeper-Hunter Killers capable of clearing the sea of dangerous minewarfare ordinance. We have numerous articles devoted to our New Minesweeps and other Mine Warfare vessels serving the United States Navy's 5th Fleet and the 7th Fleet.
Please Note:
If you were a MineDiv 93 Minesweeper Sailor out of Longbeach Ca. during any of the years that the USS Guide MSO 447 was in service please send us your contact information.
We are trying to let our shipmates know they have a new website for them to look through and add in some memeriabilia to the website. You can send your contact information to us by clicking in the Contact Us link in the main horizontal menu bar.
If you were a Minesweeper Sailor serving on any type minecraft from any other division in the 5th Fleet or 7th Fleet you are also welcomed to our website. To be included in our new website just let us know who you are, where you served and if you have any memoribilia to share. If you are not a minecraft sailor then welcome to the Iron Men Wooden Ships fleet

Thank you, I'm Harry Westervelt IC3 webmaster of the USS Guide MSO 447 website