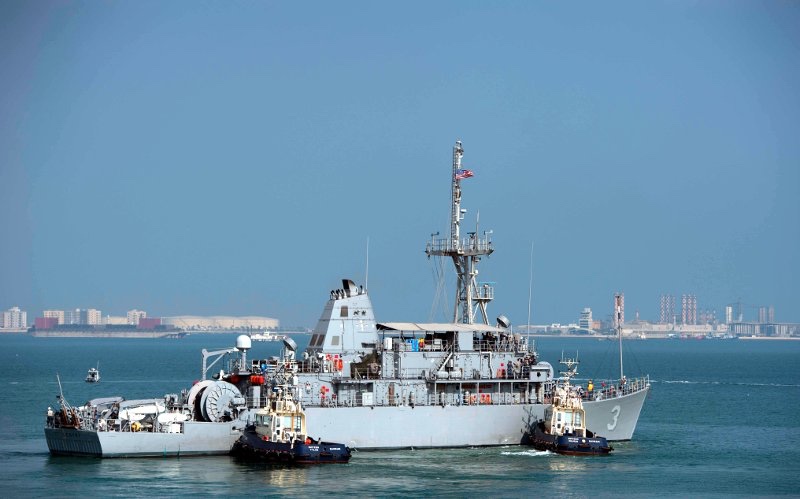 USS Sentry MCM 3
MANAMA, Bahrain (NNS) The U.S. Navy and Royal navy completed U.K. U.S. Mine Countermeasures Exercise (MCMEX) 17-3, a quarterly bilateral exercise, in the central Arabian Gulf, Sept. 21.
Naval forces from the U.S. and U.K. execute a series of MCM exercises in the Arabian Gulf throughout the year that demonstrate the shared commitment of ensuring unfettered operations of naval and support vessels, as well as commercial shipping movements, throughout the maritime domain.
"This MCMEX provides a great opportunity for relevant and realistic training," said Commander, Task Force (TF) 52 Capt. Michael Egan. "It is one of the many exercises we conduct with the United Kingdom and other partner nations in the region, enhancing our collective abilities to conduct integrated multinational mine countermeasures in 5th Fleet."
The exercise consisted of mine countermeasures training and a variety of supporting at-sea events. A key portion of the exercise involved the integration of surface and airborne MCM assets. MH-53E Sea Dragon helicopters from Helicopter Mine Countermeasures Squadron (HM) 15 and Avenger-class mine countermeasures ship USS Sentry (MCM 3) conducted mine hunting and minesweeping operations, locating exercise mines alongside the Royal navy's RFA Cardigan Bay, HMS Bangor, HMS Blyth and HMS Ledbury.
The exercise promoted the sharing of knowledge and experiences between partner nations to improve tactical proficiencies and strengthen partnerships.
TF 52 plans and executes mine warfare operations in support of U.S. 5th Fleet operational objectives. Such operations are critical to maintaining sea lines of communication, deterring and countering adversaries and strengthening regional partner maritime capabilities to promote a secure maritime environment for all.
U.S. 5th Fleet area of operations encompasses about 2.5 million square miles of water area and includes the Arabian Gulf, Gulf of Oman, Red Sea, and parts of the Indian Ocean. The expanse comprises 20 countries and includes three critical choke points at the Strait of Hormuz, the Suez Canal, and the Strait of Bab el-Mandeb at the southern tip of Yemen
Task Force 52 Hosts UK US Mine Countermeasures Exercise