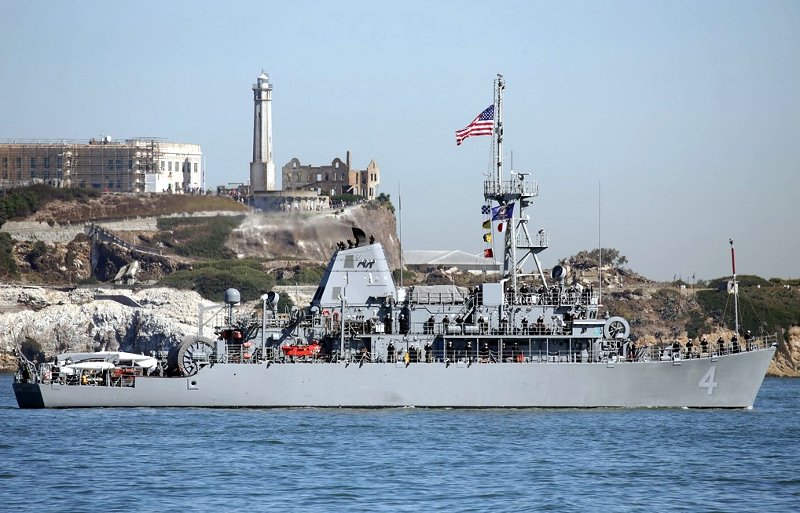 USS Champion MCM 4
WWII Vet Visits Champion
SAN DIEGO, CA – Sailors on board mine countermeasures ship USS Champion (MCM 4) were privileged to host World War II veteran Herbert "Bill" Harrison as he took a tour of the ship on April 19, his first time on a U.S. Navy ship in 75 years.
Harrison was a Sailor aboard YMS-472, a minesweeper during the war and also managed to survive a shipwreck caused by a super typhoon. While on board Champion, Harrison toured the ship from stem to stern before spending time on the mess decks where he relayed his story of resiliency and survival at sea to the crew. During the retelling of his story Harrison remarked, "I made a promise to myself while I was floating on a life raft for six days with no food or water that if I lived I would share my story and my faith." According to Commander Master Chief Jeremy Embree, the veteran's visit had quite the impact on the crew.
For Embree, Harrison's visit was an unique opportunity for the Champion's Chief Petty Officers Mess to honor the heritage and history of the Navy and to help mentor and lead the next generation of Sailors. "I was honored to be part of the escort of Mr. Harrison during his visit," said Embry. "It is a special treat to meet a WWII era mine sweep Sailor and we used the opportunity [for him] to speak to our division officers, chief petty officers, and first class petty officers. "The executive officer of Champion, Lt. Cmdr. J.D. Kristenson, added, "The Sailors Creed has renewed meaning in the presence of those who have gone before us to defend freedom and democracy around the world. "Visits such as Harrison's provide the opportunity for the Sailors of today to honor the history and heritage of their service and pick up many lessons in what it means to a U.S. Sailor.
USS Champion (MCM 4) is one of three mine counter-measures ships that are part of Commander Mine Counter-Measures Squadron THREE and is home ported in San Diego, CA.