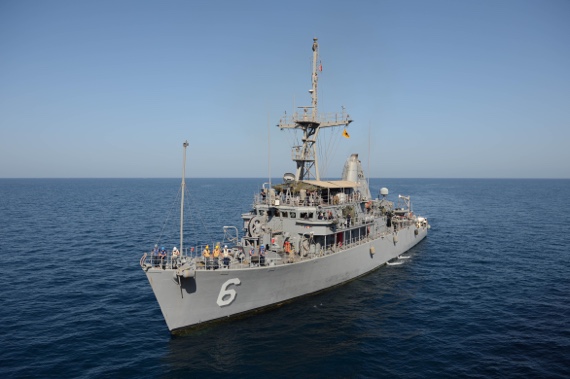 USS Devastator MCM 6
This is the second ship to bear the name and Peterson Builders Incorporated at Sturgeon Bay, Wisc, laid down the second Devastator at. on 9 February 1987, launched on 11 June 1988.
Devastator traveled through the Panama Canal at Panama City, Fla., received assistance from Navy utility boats as she gets underway for the Gulf of Mexico Exercise (GOMEX) 05-1, 3 December 2004. Devastator participated in the Lead Shield III / Roguex V, a maritime homeland security and defense exercise near the ports of Los Angeles and Long Beach, Calif., with the U.S. Coast Guard, 6 May 2005.
On 19 May 2009, a Sikorsky HH-60 Sea Hawk helicopter crashed off the coast of Southern California and Mexico while conducting training operations with Nimitz CVN-68). Devastator and mine countermeasure ships Champion (MCM-4) and Pioneer (MCM-9) were dispatched to participate in Navy search efforts on 21 May.
Devastators returned to San Diego with Champion on 22 May, Pioneer returned later that same day. On 23 June 2012 Devastator and three other MCM ships arrived in Bahrain. Devastator is assigned to Commander, Task Force 52, supporting mine countermeasure operations in the U.S. 5th Fleet area of responsibility.