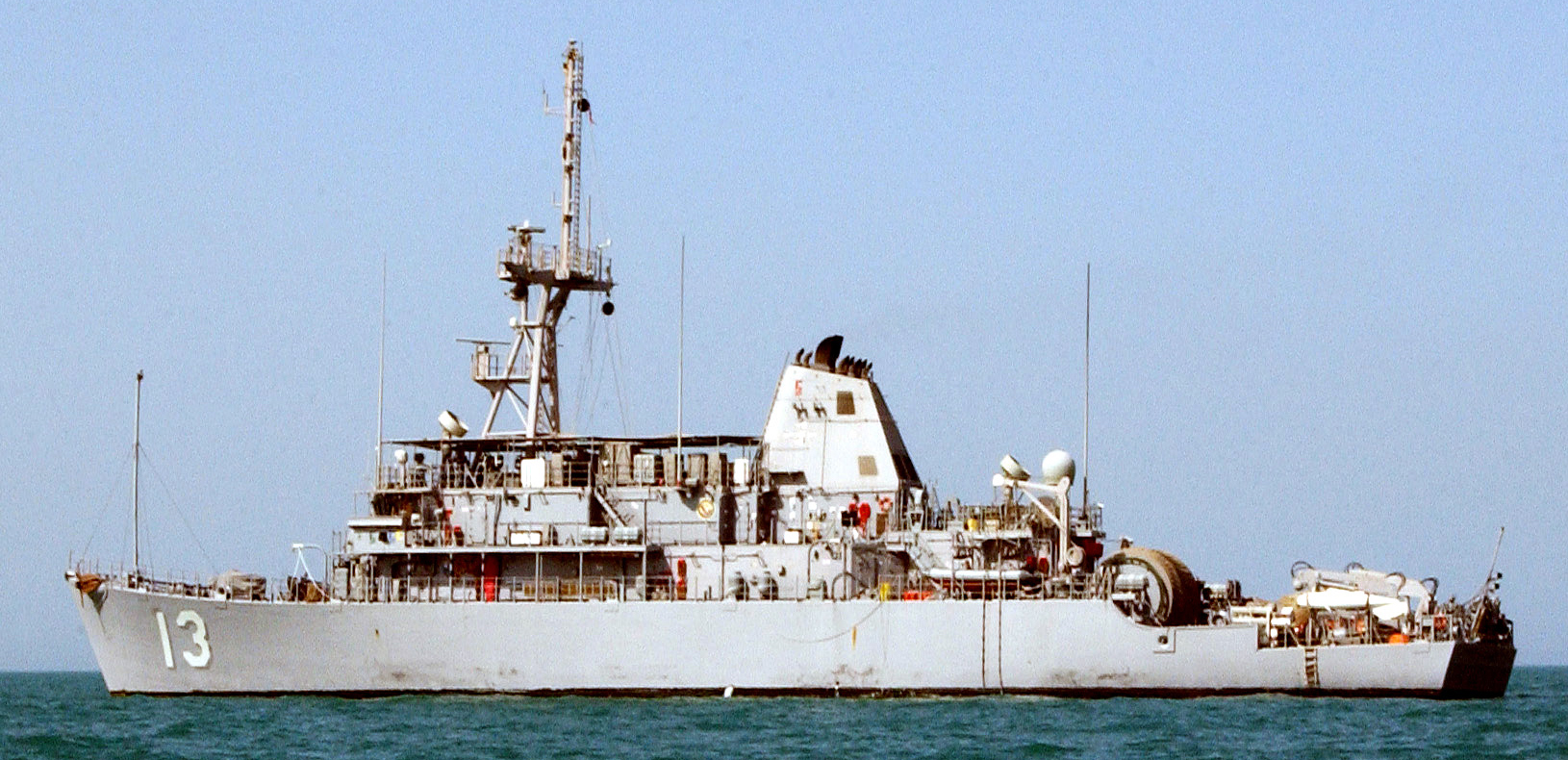 USS Dextrous MCM 13
The second Dextrous (MCM-13) was laid down on 11 March 1991 at Sturgeon Bay, Wisc., by Peterson Builders; launched on 20 June 1992 sponsored by Mrs. Jacqueline E. Schafer, the first Assistant Secretary of the Navy for Installations and Environment; and commissioned on 9 July 1994, Lt. Cmdr. Robert I. McGrath Jr., in command
USS Dextrous is stationed in Manama, Bahrain and regularly patrols the Mediterranean Sea and Arabian Gulf. Part of the forward deployed forces belonging to COMCMRON THREE, Dextrous ensures the sea in her assigned area is clear of anti-ship mines. She also participates in regular exercises and operations and performs many roles.
The Osprey-class Mine Countermeasure Ship Raven (MHC-61), left, cruises alongside Dextrous while conducting training for U.S. Naval Academy midshipmen deployed in the Arabian Gulf for a two week summer training cruise, 14 June 2004. Raven and Dextrous were deployed in support of Operation Iraqi Freedom.
Dextrous patrols the waters during mineclearing operations in the Klawr Abd Allah waterway. Coalition Naval forces cleared the waterway of mines and rogue vessels to make way for the arrival of humanitarian relief shipments in support of Operation Iraqi Freedom, 28 March 2003. (Photographers Mate 1st Class Arlo K. Abrahamson, U.S. Navy Photograph 030328-N-5362A-012, Navy.mil Photos).
From May to July 2005 Dextrous conducted a four-month maintenance period in Bahrain overhauling major equipment, to include repairing a rudder, replacing wood from the bow of the mine hunter, repainting the ship and cleaning the hull. On 18 August Dextrous got underway from the Mina Salman pier to conduct sea trials to test all the newly-installed or recently improved systems over a three day period.
On 1 September 2006, after a two-month maintenance overhaul, Dextrous joined her sister ship Ardent (MCM-12) in getting underway from the Mina Salman pier in Bahrain. This deployment was undertaken to test newly-installed equipment and recently improved systems while conducting maritime security operations in the Persian Gulf.