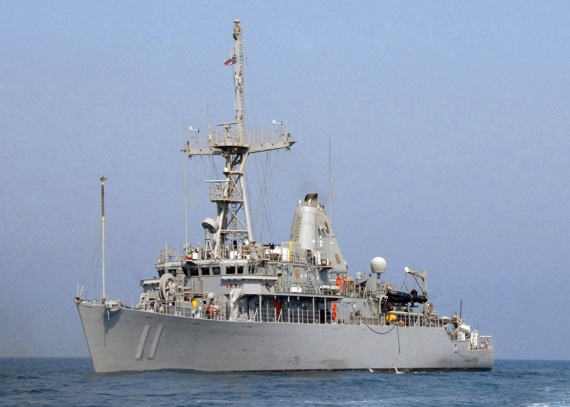 USS Gladiator (MCM 11)
4/28/16
GULF OF OMAN (NNS) -- Mine countermeasures ship USS Gladiator (MCM 11) is scheduled to return to homeport after participating in the International Mine Countermeasures Exercise (IMCMEX) April 4-26.
IMCMEX featured international naval and civilian maritime forces from more than 30 nations and spanning six continents.
Participants trained together across the Middle East, focused on maritime security from the port of origin to the port of arrival and included scenarios ranging from mine countermeasures, infrastructure protection and maritime security operations in support of civilian shipping.
Gladiator's contribution to IMCMEX involved surveying approximately 100 miles of ocean floor in search of training mines. These surveys were conducted with HMS Chiddingfold and HMS Penzance under a task force led by the Royal Australian Navy. Gladiator rigged and streamed two different minesweeping configurations, practiced maritime security with USCGC Maui and USS Hurricane, and replenished stores alongside RFA Cardigan Bay.
Gladiator was designed to detect and counter several types of mines in many different types of environments using a diverse set of MCM systems. During IMCMEX the ship was able to demonstrate its wide variety of capabilities.
"We truly enjoyed the opportunity to exercise our combat systems to find and neutralize mines," said Lt. Cmdr. Francisco Garza, commanding officer of Gladiator. "The practice provided by IMCMEX is crucial for seamless teamwork in the future."
For more news from Commander, U.S. Naval Forces Central Command/5th Fleet, visit www.navy.mil/local/cusnc/.
12/8/17
The U.S. Navy and Royal Navy completed a U.K./U.S. Mine Countermeasures Exercise (MCMEX) in the central Arabian Gulf, Dec. 7.
This quarterly event doubled as the certification for the staff of Commander, Task Force (CTF) 52 by Surface Mine Warfighting Development Center. "We look forward to conducting this exercise every quarter. It unquestionably helps us build and grow with our coalition partner by improving tactical proficiencies and sharing knowledge," said Capt. Michael Egan, commander of CTF 52.
The exercise involved a broad range of training and a variety of supporting at-sea events. MH-53E Sea Dragon helicopters from Helicopter Mine Countermeasures Squadron (HM) 15 and the Avenger-class mine countermeasures ship USS Gladiator (MCM 11) conducted mine hunting operations alongside Royal Navy ships HMS Bangor, HMS Blyth, HMS Ledbury and HMS Middleton. Participating units' mission was to locate exercise mines. Also deployed for the exercise were a mine hunting unit and an unmanned systems platoon. These various components worked together to ensure all legs of the MCM triad, consisting of airborne, surface and underwater mine countermeasures, were achieved.
CTF 52 plans and executes mine warfare operations in support of U.S. 5th Fleet operational objectives. Such operations are critical to maintaining sea lines of communication, deterring and countering adversaries and strengthening regional partner maritime capabilities to promote a secure maritime environment. U.S. 5th Fleet area of operations encompasses about 2.5 million square miles of water area and includes the Arabian Gulf, Gulf of Oman, Red Sea and parts of the Indian Ocean. The expanse comprises 20 countries and includes three critical choke points at the Strait of Hormuz, the Suez Canal, and the Bab el-Mandeb at the southern tip of Yemen.